COMpris: A New Method to Manufacture Stronger and Thicker Composites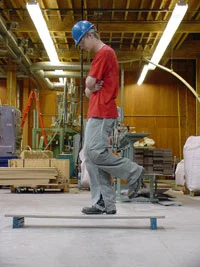 A solution for simplifying manufacturing of utility-scale wind turbine blades?
PROBLEM: Manufacturers of large composite components such as boats or wind blades are currently limited to using non-recyclable materials and labor intensive manufacturing processes.
Most plastics can be divided into two categories, thermosets and thermoplastics. Thermoplastics can be melted and reused or recycled repeatedly, while thermosets cannot. But thermoplastics are limited to applications less than four inches in thickness, and have a tendency to trap small vapor bubbles, or microvoids, that weaken the material.
SOLUTION: The patented Composites Pressure Resins Infusion System, ComPRIS, provides thermoplastics with the strength of thermosets.  ComPRIS can also be used to increase the strength of thermosets.
HOW IT WORKS: The method involves the use of applied pressure to infuse polymer resins into fabrics, wood, concrete, ceramics and other materials to produce stronger, more durable composites.  Assembled composite components infused with resin under pressure create a composite essentially free of microvoids.  ComPRIS composites exhibit equal or improved load bearing performance compared to composites manufactured by other methods.
Thermosets demonstrate marked reduction in microvoids and improved strength.
Thermoplastics can exceed 4 inches in thickness, virtually free of microvoids.
TECH ID:  2003-01
PATENTS: US Patent 7,300,894; Canadian Patent CA 2512463;  related undisclosed know-how and developments.
DEVELOPMENT PLAN:
– Current business model is for thermoplastic resin manufacturers to increase resin sales as component fabricators adopt ComPRIS for to make new, larger parts.
–  Specific thermoplastic resins need to be evaluated and optimized using ComPRIS.  The cost to perform this evaluation at AEWC is approximately $50,000.  A collaboration between a resin manufacturer and one or more fabricators would be ideal to advance this technology, and would be eligible to compete for an MTI Tech Transfer SEED grant.
– Next steps, outreach to thermoplastic resin manufacturers and component fabricators.
TEAM:
Roberto Lopez-Anido,  Inventor
Benjamin Herzog, Inventor
Barry S. Goodell, Inventor
Kris A. Burton, Technology Commercialization
LINKS: