25% Stronger, 100% Biobased Fiber Board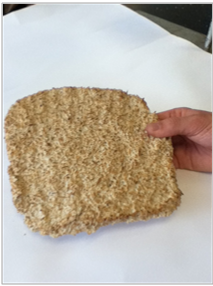 By replacing commonly used formaldehyde-based resins with a new type of binder,  researchers at UMaine have developed fiber board building material that is nontoxic, made entirely from renewable materials and is 25% stronger than currently available products.  The new binder includes cellulose nanofibrils (CNF), which are wood fibers about 200 micrometers in length and 30 nanometers wide.  The CNF is manufactured using a UMaine proprietary mechanical process that is free from harmful chemicals or additives.
Benefits:
Reduction in health problems and related expenses (up to $48m per year 1) caused by formaldehyde exposure.
Up to 25% increased product strength.
All components, precursors and processing materials are renewable and nontoxic.
Most conventionally manufactured particle board contains a formaldehyde-based binder system which releases toxic formaldehyde into living spaces. Exposure to formaldehyde is known to cause respiratory disorders, neurological disorders, cancer, and reproductive issues.
There are other less toxic binders available, including adhesive systems comprised of soy, polyvinyl acetate (PVA), methylene diisocyanate (MDI) and Ultra-low emitting formaldehyde (ULEF) resins.  Unlike the UMaine CNF binder, none of these materials is completely nontoxic across the product life cycle 2.
Inventors: Doug Bousfield, Mike Bilodeau
Tech Ref.: 2013-13
Patent Pending Canada and US
________________________________
1. According to the Formaldehyde Emissions Standards for Composite Wood Products; Proposed Rule [RIN 2070-AJ92; FRL-9342-3], the benefits of avoiding formaldehyde are substantial. "For the subset of health effects where the results were quantified, the estimated annualized benefits (due to avoided incidence of eye irritation and nasopharyngeal cancer) are $20 million to $48 million per year using a 3% discount rate, and $9 million to $23 million per year using a 7% discount rate…. There are additional unquantified benefits due to respiratory and other avoided health effects."
2. The "Alternative Resin Binders for Particleboard, Medium Density Fiberboard (MDF), and Wheatboard" report issued by the Global Health and Safety Initiative, no alternatives have been identified that are 100% safe.   "At this point in the development of alternatives to urea formaldehyde (UF) resins in particleboard, MDF, and wheat board products, there has yet to be a product that can replace UF that does not raise some environmental health concerns."  This report did not example cellulose nanofiber adhesive as an alternative.